Where do the CR Spirits perform?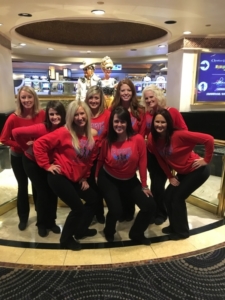 The CR Spirits perform all over Iowa and have made many appearances across the US. Some of the places I have had the opportunity to perform at in the 4 years I've been on the team are the following:
Riverside Casino
Harlem Globetrotters
Uptown Friday Nights
Multiple fairs- including the IA State Fair
Local Bars
Birthday Parties
Performing in Vegas is a highlight for many on the team but unfortunately I was unable to attend.
My favorite performance so far was our Spirit Show! Last year our show was at the Coralville Marriott and this year we will be performing at Veterans Memorial. Mark your calendars for March 4th! You won't want to miss it!
Katie W.