The CR Spirits Professional Dance Team & Studio was founded in 1993 by Tiffany Saari-Kuehl. The Professional Dance Team was the original start to the CR Spirits. A professional group of women that would meet once a week, learn high-energy, crowd pleasing choreography, and perform all over the community was the beginning idea for the CR Spirits. Red, white, & blue are the colors that represent this strong Professional Dance Team & Studio.
Tiffany's choreography can hold the attention of a crowd from young to old.
She has been choreographing since 1983. Tiffany choreographs for all ages from Dance and Cheer routines, Competitions, Show Choirs Events, Body-Building Shows, Fitness Routines, Pageants, and her passion, the Professional Dance Team. Roughly 60 routines a season she choreographs just for Iowa performances alone.
Tiffany is not only a choreographer but a Motivational Speaker. Some of the venues Tiffany speaks at would include Company Banquets, Women Events, Middle Schools, High Schools, and College Classes.
Tiffany believes in giving back to the community. In 2013, Tiffany provided approximately 90 hours of her time in performances for festivals and charity events. This did not include her staff or the Professional Team's time.
The Professional Dance Team is a volunteer organization, since 1993. Once a week for three hours these women donate their time and energy to come into the dance room and fulfill their passion. They learn Tiffany's dances, listen to her lectures which has helped shape them into the strong confident women that they are today. The opportunity Tiffany gives these women and herself over the years has been exciting. The CR Spirits Professional Dance Team has performed all over Iowa and the United States. Adventures not only include performing for many outstanding fans but the Commercials and Modeling Opportunities as well. From opening for Big Performance Acts, attending the Dick Clark's New Years Eve Bash, to being offered a job in Las Vegas. The Spirits were asked to do a TV Pilot in California, as well as being on Stand-by for the Troops in Iraq for a 10 day celebrity tour to Iraq.
When & Where was the first CR Spirits meeting held?
The first meeting was in September of 1993 and was held in my living room. A few girls (old friends of mine) were the start of the team. I knew their dance history and explained to them the dream I had. After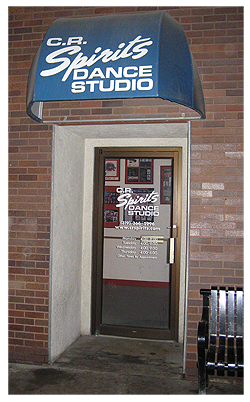 the meeting, I had to take the girls to my garage to show the dance routine they would soon be learning. Paulette Hansen now Paulette Petersen was one of the original girls in that first meeting.
What was the desire in starting the CR Spirits?
Simple…Performing. I enjoy the stage. It was exciting to perform in high school, college, and as a CBA Silverbullet Cheerleader. The crowds loved seeing the girls perform and I loved performing. Those days were over, at least I thought. Being settled in Cedar Rapids with my family there was nothing in this area that I was looking for. I was looking for a "Dallas Cowboy Cheerleader" look only here in Cedar Rapids. Starting something like this, I didn't have the big sponsors, no one was going to back me up, and no one was really looking for cheerleaders.  How was I going to build the Spirits name and idea? It was a desire, it was in my heart.  The lesson here, "Believe in yourself"!
What was the CR Spirits first performance?
Our first CR Spirits performance was the 1994 St. Patrick's Day Parade. I was so scared. I was nervous for my team and for myself. I didn't know if the public would accept it. No sponsors not a part of any sport, group, or business in Cedar Rapids, just a group of women that enjoy dancing and performing. I remember trying to stay professional in front of the team and thinking it we get booed, I will never do this again. The commentators for the parade were wonderful. The things they said on television about the Spirits were what made me continue with my dream.  A big thanks to Denny Frary of the Channel 9 News!
What are some past memories of other first events of the CR Spirits?
I can't quit smiling. One of the best things about being a part of a team…is the memories. It's like a family. I have wonderful memories. Funny ones, sad ones, it has made my journey through life so much more.
Here are some old memories from the beginning. I remember my daughter "Crystal" who was so little at the time; we used her stroller like a wagon. I put the stereo on top of the stroller to perform at festivals in downtown Cedar Rapids. It was a way to get our name out. It worked, but I remember carrying her, pushing the stroller, holding onto a diaper bag, watching the crowds gush over us, and then watch some spectators trying to figure out our age. No we were not high school, even though our style was young. Laughing and embarrassed I would NEVER do that now!
The Cedar Rapids Fire Department was ALWAYS supportive of the CR Spirits. This one time the Cedar Rapids Fire Department had to tape down our stereo to the front of their truck. It was all strapped down so we could perform/dance with the firemen during a parade. We danced to a country song by George Straight "The Fireman". The idea was good and the compliments were pouring in. I am sure those firemen can't believe they had to do that. Matter of fact I have it on tape. I should get it out.
Let's see there was a Cedar Rapids Kernels Game that we did. It rained, should I say, poured and of course the game must still go on. So, the dancers had mud all over them from head to toe. You name it mud everywhere! The team was giggling. I was so mad at them for giggling through the performance. We are professionals I told them, even in the rain. But I have to admit what a great memory!
How many times does the Professional Team practice and where?
We practice once a week, every Wednesday from 6:30 -9:30pm. Our studio is now located in Lindale Mall. Anyone is welcome to watch. I have always wanted to have a studio in the Mall. It took me 8 years to get that and I thank Jeanne from Lindale Mall for it!
Where were you before the mall?
With it being a volunteer dance team we needed a place to practice for FREE and my garage was not cutting it. I remember making so many phone calls to companies, it was so much work. So, THANK YOU to the Jane Boyd Center who held my first few months of practices, then Farmer State Bank basement in Hiawatha who took over for the next 2 1/2 years, then the Cedar Rapids Fire Department Main Central Station jumped in to help us out for about a year. After that I was able to reach another goal, opening my first studio which was located in Twisters Gymnastics. A few years after that I opened a 2nd studio located in downtown Cedar Rapids and after a couple of years of that, I wanted one location and moved into Lindale Mall!
Another lesson, "Your character is way more important than you think.  It is important to your future of who you become and how you get there".
It sounds like you have reached a lot of your goals?
I think I have always have had goals or making new ones.
My 1st goal was to have a Professional Dance Team.
My 2nd goal was to have a Professional Team Poster. That meant sponsors. Sponsors are hard to fine. The sponsor has to believe in your dream or at least in you. We did get that Professional Team Poster by our 2nd year.
My 3rd goal was a dance studio with maybe 24 students. I reached that goal in 3 1/2 years and 24 students were reached by my 2nd month. Never in my dreams did I think that was going to happen.
4th goal was a swimsuit calendar that took 6 years to get and when it came out the CR Spirits Professional Dance Team and Studio went to a new level.
What a wonderful feeling that is to achieve.  And my goals have always continued even when you get off path you have to find your goals again!
You only wanted 24 students?
Yeah, I thought I would be lucky to find 24 girls that would want to do this. To do what I enjoy doing. In two months I was way past the 24 mark. A year and half the studio had a ONE YEAR waiting list to get into. The business grew so fast, I was not sure how to run it. Having a family that I had to put first but yet a dream that I wanted to fill was very hard to do. I did my best and I am very fortunate. Now that I am in the mall we offer a lot of different classes but the studio performing classes are still elite.